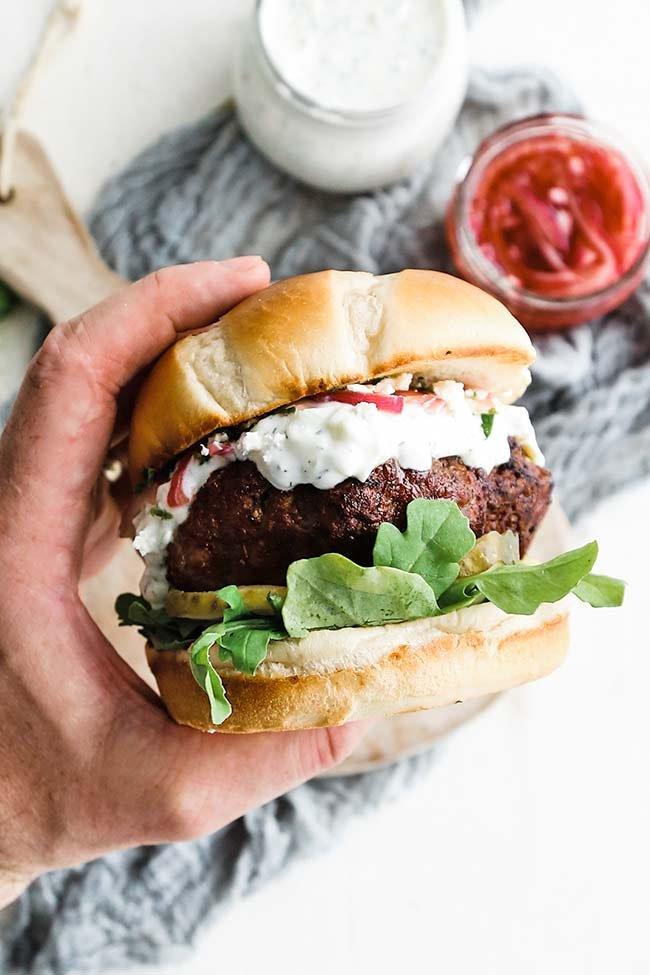 INGREDIENTS
For the Pickled  Onions
¼ peeled and thinly sliced red onion

½ cup red wine vinegar

2 tablespoons sugar

1 tablespoon sea salt
 For the Tzatziki
½ peeled, seeded, and shredded cucumber

1 cup full-fat Greek yogurt

¼ cup extra virgin olive oil

1 finely minced garlic clove

juice of ½ lemon

1 ½ teaspoons finely minced fresh dill

salt and pepper to taste
For the Burger
1 ½ teaspoons ground cumin

½ teaspoon ground coriander

1 teaspoon dry oregano

½ teaspoon sumac

2 teaspoons sea salt

1 teaspoon black pepper

¼ peeled and finely grated red onion

2 finely grated garlic cloves

4 toasted Kaiser buns

1 cup arugula

16 dill pickle slices

½ cup crumbled feta cheese

2 tablespoons chopped fresh mint
DIRECTIONS
Pickled Onions
Mix the vinegar, sugar, and salt in a small bowl and submerge the sliced red onions in the mixture. Pickle for 20-30 minutes in the refrigerator.
Tzatziki
Place the cucumber shreds in a colander in a bowl and season with about a ½ teaspoon of salt and mix it until combined.
Let the moisture from the cumbers drain into the bowl for about 10 minutes.
Squeeze the cucumber shreds to get off as much extra moisture as possible and then add it to a separate medium-size bowl along with the remaining recipe ingredients.
Whisk until it is well combined, cover, and keep in the refrigerator until ready to use.
Lamb Burger
In a large bowl thoroughly mix the lamb with cumin, coriander, oregano, sumac, salt, pepper, grated onion, and garlic.
Form 4 large patties and place them on a hot (550° to 650°) preheated grill and cook for 6 to 7 minutes.
Flip the burgers and cook for a further 5 to 6 minutes or until it reaches 160° F internally.
Remove the lamb burgers and rest for 4 to 5 minutes before serving.
To Assemble
Add some arugula to the bottom toasted Kaiser bun and then layer on with pickle slices, lamb burger, tzatziki, pickled onions, feta cheese, mint, and the top toasted kaiser bun. Repeat with the other 3 lamb burgers and serve.